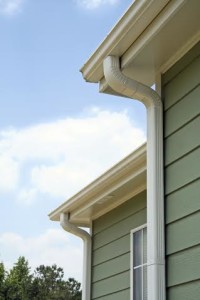 Dealing with the rainy days, falling leaves, and cleaning out the gutters for proper water flow can be a task in the past! Refuge Roofing & Siding also specializes in the fitting of Minneapolis gutter systems! Our elegant, seamless gutters flash off a beautiful look when tieing the home and its efficiency into place. Your sleek new rain pathways are designed specifically for your structure. Have no fear when our gutter contractors install your new gutter system, our contractors and crew members are the best in the business. Contact us today and let us help you clear the water away!
Benefits to Seamless Minneapolis Gutter Installation Services
Before the engineering of seamless gutters there were sectional gutter systems that are ,yes, still on the market – just a lot less functional. The positive factors that outweigh the negative when deciding to upgrade and install seamless gutters on your home will make your decision the right one! Here are some reasons why previous customers have loved our professional gutter installation services near Minneapolis:
Performance– Limiting the amount of joints per gutter. Joints will rust, cause blockage, and begin to overflow or leak onto the surface below. The seamless gutters do not have joints to cause these issues. Also our gutter screen and covers will prevent debris from building up and animals wrecking your gutters.
Maintenance Free– Having maintenance free residential or commercial gutters in Minneapolis will save you the time to enjoy what matters to you. Not having to adjust or climb up ladders.
Fitting Look– Nothing but completely straight lines. Keeping your home always looking photo opp ready. Our adjustable downspouts will help when mowing the lawn or needing to extend the spout is just a simple push.
There are truly so many benefits when upgrading to seamless gutters for your home or business. Our professional gutter contractors have all of safest equipment for your new water runoff highway. Give us a call today and speak with a professional!
Contact Your Local Professional Seamless Gutter Specialist Today!
Between living and working in the beautiful area of Minnesota we know what to expect when it comes to weather and effects that follow. Refuge Roofing & Siding is a professional contracting company that specializes in many aspects of exterior home replacements. We have put so many hours of our off time into learning more about products, environment, installation processes, and everything else involving the construction field. With our knowledge and dedication you can rest easy knowing your home is in the safest of hands with our gutter installation services. To speak with a local Minneapolis insured gutter installer give Refuge Roofing & Siding a call, (651) PRO-ROOF!
Save