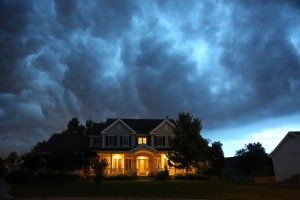 Looking for a licensed Minnesota contractor specializing in storm damage repair? At Refuge Roofing & Siding, we are your local storm damage home repair contractors that specialize in Minnesota storm damage restoration. If your home has been damaged or compromised in any way after a storm, let our experts help you repair and recover quickly and efficiently.
Licensed Minnesota Contractors in Storm Damage Repair
It's no secret that Minnesota gets hit with our fair share of storms. You may see quick fixes and gimmicks all over the place that claim to fix or repair your damage fast. However, do you know their real credentials? Do they have the references and licensure to back that up? At Refuge Roofing & Siding, we are proud to be licensed storm damage home repair contractors. We are fully licensed and insured for all types of Minnesota storm damage restoration. We are a GAF certified installer, and we complete every job from start to finish with honesty, integrity, and quality work.
After the Storm
Unfortunately, no one can prevent storms from coming through Minnesota. When nature takes its course, it's important to know who to call. As storm repair experts, we know how to inspect every inch of your property. We take a close look at any damage that may have occurred and document all of our findings. We then go a step further and meet with your insurance adjuster on-site to make sure that they agree with our findings so that no one misses any damage on your property. After a storm, the stress can be a lot to handle. We take the hassle of dealing with any insurance negotiations off of your hands. We work to ensure that any work done by our company is paid for by the insurance company at no additional out of pocket cost to you, the home or business owner. This means that after a storm, all you need to worry about is your one payment for your insurance deductible. Once that is complete, our quality storm damage home repair contractors will get to work to repair the damages and restore your home or business to better than pre-storm condition.
Hassle Free Storm Damage Repairs for Minnesota
All of our services here at Refuge Roofing & Siding are hassle free. Additionally, our consultations and estimates are no obligation. We believe that our reputation and standard of care for all of our customers here in Minneapolis, MN can show for itself. For more information about your local Minnesota storm damage contractor, give Refuge Roofing & Siding a call today (651) PRO-ROOF.