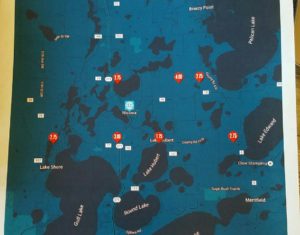 Storms made a mess of Minnesota homes again Sunday night as tornadoes and grapefruit-sized hail swept across the state. Large portions of central Minnesota including Nisswa north east to Pelican Lake were affected. If you're a homeowner in an area that was hit by the storms, your home likely suffered severe damage. At Refuge Roofing & Siding we are here to help with a crew of experienced licensed roofing contractors. We know the amount of damage storms can cause to your home's siding, roof, windows, and gutters, and we're here to help you get your home inspected, repaired, and looking as good as new.
When you call Refuge Roofing & Siding, you can be sure that our top priority is helping you get your home repaired as quickly as possible in order to preserve the safety and value of your home. Because we know what it means to be a Minnesota home owner, we know the hardships that storms can bring, and we want to make facing the inevitable challenges of dealing with storm damage as easy for you as we can. When you first discover the damage to your home, it's natural to wonder how you're going to pay for repairs, how much of the repair costs will be covered by your insurance, and who is going to give you the best price for your home repairs. If you're a homeowner who's struggling to answer these questions, give us a call, and we'll help fill in the blanks.
The first thing your insurance company will likely ask when you call is whether you've had your home inspected for storm damage by a professional, so contact us first. We'll conduct an inspection of your home ourselves before meeting with a claims adjuster to negotiating pricing at your home that day. Once we handle the negotiations, we can give you a repair estimate for your home's damage, and you can breathe easy knowing that our estimates will never be more than your insurance deductible. Even if your claim is denied for some reason following our inspections, there won't be any outstanding bills for you to pay, as we only charge for the services that your insurance company approves.
Trust in Refuge Roofing & Siding for all of your storm damage home and business repairs, and see the difference our team can make. With more than 50 years of collective experience, our GAF-certified roofing contractors know the ins and outs of roof, siding, window, and even gutter repairs. Since 2004, our business has been licensed and insured, repairing storm-damaged homes and businesses in addition to the roofing and siding services we provide every day.
When your home suffers extensive or even just minimal storm damage, Refuge Roofing & Siding is the repair company to call. We've seen the damage that tornadoes and 4-inch hail like we saw Sunday night can leave behind, and we've repaired that damage every time. If you're a Minnesota homeowner whose home has been affected by yet another intense storm, call us at (651) PRO-ROOF, and feel confident knowing that we have the experience needed to make storm damage repairs that will leave your house looking like your home again.