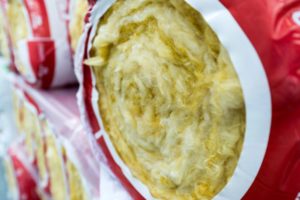 As the weather begins to cool down in Minnesota, you may be looking for additional ways to heat your home more efficiently. One area where you may be overlooking has to do with attic insulation. At Refuge Roofing, we've found that by adding or replacing attic insulation, we can help homeowners not only cut down on their high heat bills in the winter, but also cut down on cooling bills in the heat of summer as well.
Located in the North Metro, Refuge Roofing and Siding are experts at roofs, and roof/attic insulation. After all, a full service roofing company handles ice dam removal during the winter months in Minnesota. Who better to handle making sure your attic insulation is installed correctly. To do the install correctly calls for attic ventilation as well as attic insulation.
Importance of Attic Insultation
Depending on when your home was built will likely determine how much, if any, insulation you have in your attic. Attic insulation technology has improved significantly over the past several decades. Even if you have attic insulation, it may not be providing enough benefit when it comes to the energy efficiency. Attic insulation is measured in R-Value, which is the ability for insulation to resist heat flow. The higher the R-Value, the better performing it will be in your home. If you haven't replaced your insulation in the past 10 years, there's likely new attic insulation technology on the market that can help save you money, and keep you more comfortable at the same time.
North Metro Attic Insulation Services
Installing insulation used to be quite time consuming because it involved laying individual pieces of insulation between attic joists. Now, blown in insulation can be used in attics to greatly decrease the installation time. However, at Refuge Roofing, when we perform an attic insulation job, we don't just stop at blowing in insulation. Instead, we also look for any gaps that could be causing additional drafts. We'll seal these areas to ensure that you're literally not throwing money away. Our job isn't complete until your attic is as efficient as possible, which often means sealing up areas as well as examining any access doors to reduce air infiltration.
Attic Insulation Services for New or Existing Construction
Whether your home is brand new, or you're simply looking for ways to make your current home more energy efficient, call our team of insulation experts today at (651) PRO-ROOF. We'd be happy to come out to your home to provide you with a free, no obligation attic insulation estimate today. We helped countless homeowners in the area and we'd be honored to add you to our list of satisfied customers.