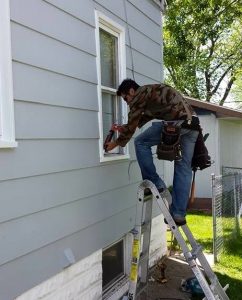 If you have lived in Minnesota or the northern half of the country for any length of time, you are aware how brutal the winters can be. Wind, snow, sleet and cold temperatures are a harsh reality for several months a year. Nothing takes a beating from this intense weather than the exterior of our homes. Refuge Roofing & Siding can help you prepare the exterior of your home for all that this winter has in store. Our winter preparation services include:
Roofing Repair
Your roof is constantly pounded by the elements and is responsible for protecting the interior of your home from those elements, including cold temperatures, wind, rain, snow and sleet. Over time, your roof can become damaged and our GAF Certified contractors can identify any problem areas in your roof and repair it quickly so that you can be confident your roof will be ready to do its job this winter.
Siding Repair
Like your roof, your home's siding is extremely important to keeping your home protected from the Minnesota weather. Your siding contributes to curb appeal and, if it is damaged or worn, it can let water into your home, creating significant problems for you. The Refuge Roofing & Siding team can assess the siding on your home and make affordable repairs.
Ice Dam Prevention and Removal
Ice dams can be very dangerous to your home and your family. They are created when ice forms on the edge of your roof and keeps melting snow and ice from draining correctly. Water backs up on your roof behind the ice dam, causing leaks and structural damage. Our team can remove and prevent ice dams on your roof.
Gutter Work
Your gutters are responsible for allowing water to move away from your home after a rain or snowstorm. Functional gutters are very important keeping water away from your foundation. Refuge Roofing & Siding has many different gutter options if you need a new gutter system. We can also make repairs if necessary.
Attic Insulation
One issue that can contribute to the formation of ice dams on your roof is inadequate insulation in your attic. Our team is experienced, educated and we are certified MN insulation contractors. We can make recommendations about whether additional insulation is needed for your home so that you can save on your energy bills, prevent heat loss and ice dams.
Refuge Roofing & Siding can help prepare your home for the winter. Call us today at 651-PRO-ROOF for a free estimate.