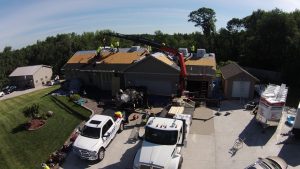 Does the exterior structure of your residential or commercial property need a facelift? If so, there's a lot of exterior services to consider investing in. However, before you decide on anything, it's critical that you choose the right residential & commercial exterior contractor in MN to partner with. Simply put, the best partner for this type of work is Refuge Roofing & Siding. Whether you have a commercial or residential property that needs some enhancements, we've got you covered every step of the way.
Residential Exterior Services
At Refuge Roofing & Siding, we take pride in offering the total package when it comes to residential exterior services. Throughout the year, you can find our dedicated exterior repair and replacement crew working on all types of projects. Our most common residential exterior services include:
Roofing – Our roofers are GAF certified, which only 3% of roofing contractors nationwide have this certification. Our residential roofing replacement is offered in asphalt shingles, steel roofing or cedar shake roofing.
Siding – It's important that your home's siding is strong enough to hold up well to the tough weather in MN. Our maintenance free residential siding does exactly this! Choose from our LP® SmartSide® siding, steel siding, cedar siding or vinyl/polymer shake siding.
Windows – Our top notch replacement windows are energy efficient, long lasting, maintenance free and easy to clean.
Gutters – If you're looking to keep your gutters intact for decades ahead, it's time to consider an investment in our durable and long lasting aluminum gutters. Additionally, we can provide you with gutter screens/covers so that you don't have to clean out your gutters multiple times a year.
Commercial Exterior Services
Having to deal with commercial exterior repairs can be extremely stressful. That's why it is so important to partner with our proven commercial exterior contractors at Refuge Roofing & Siding. Over the years, we've handled exterior renovations and repairs for apartment buildings, multi-family projects, townhomes and condominiums, banks, churches and even hotels. In addition to the residential exterior services that we offer, we can also handle any commercial property damage, inspections, insurance claim assistance, emergency response as well as any regular maintenance that you may need.
If you've been looking for the right residential or commercial exterior contractor in MN to work with, look no further than our team at Refuge Roofing & Siding. To request a complimentary residential or commercial exterior estimate for your MN property, give our staff a call today at (651) PRO-ROOF.