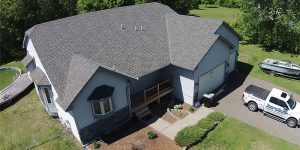 At Refuge Roofing and Siding, we offer a whole host of residential roofing services with a trusted history operating in the Anoka, MN area. Here's a little more about just a few of the services we provide.
Residential Roofing Services Anoka
Damage due to hail storms and other major weather events can be stressful and devastating. And unfortunately, it can take very little damage to require repairs or even whole roof replacements. After any major storm, wind or weather event, make sure to check your roof carefully for signs of damage. Note any missing shingles from your roof or damage from tree branches.
Catching weather damage early makes the repair easier and less costly. Thankfully, a knowledgeable contractor like Refuge Roofing and Siding can make all the difference in dealing with your insurance company and making sure the job is done right. We are experienced in completing roof repairs due to major weather events, or even just updating and maintenance for homes, multi-family residences and commercial properties.
Siding Installation and Repair
At Refuge Roofing and Siding, we are licensed and insured to provide all of our services, including siding installation and repair. If you're looking for a fresh, new look for your home or just wanting to repair some damage to your existing siding, look no further. We install a variety of siding materials including vinyl, steel, cedar and vinyl/polymer shake siding. We also offer the highly innovative and impressive siding solution, LP Smartside.
In addition to roofing and siding, we offer service and repair for all your soffit and fascia needs. These jobs can be a thorn in your side, not just because outdated or damaged soffit or fascia ruins the curb appeal of your home. Letting these problems go can lead to significant damage to your roof or attic. So, don't wait, make sure you handle these problems as soon as possible to prevent costly damage to the overall structure of your home.
Windows, Gutters and Attic Insulation
At Refuge Roofing and Siding, we take all the guesswork out of major installations and repairs to windows, gutters and attic insulation. Had a problem with ice dams this past winter? We can help with that, too. We're a one-stop shop for all your exterior home repair and maintenance needs!
Our experienced team has seen it all and we'd be only too happy to provide you with a totally free consultation: hassle free and no obligation. So, give us a call today to find out how stress-free it can be to secure exterior repairs of all types or your home!