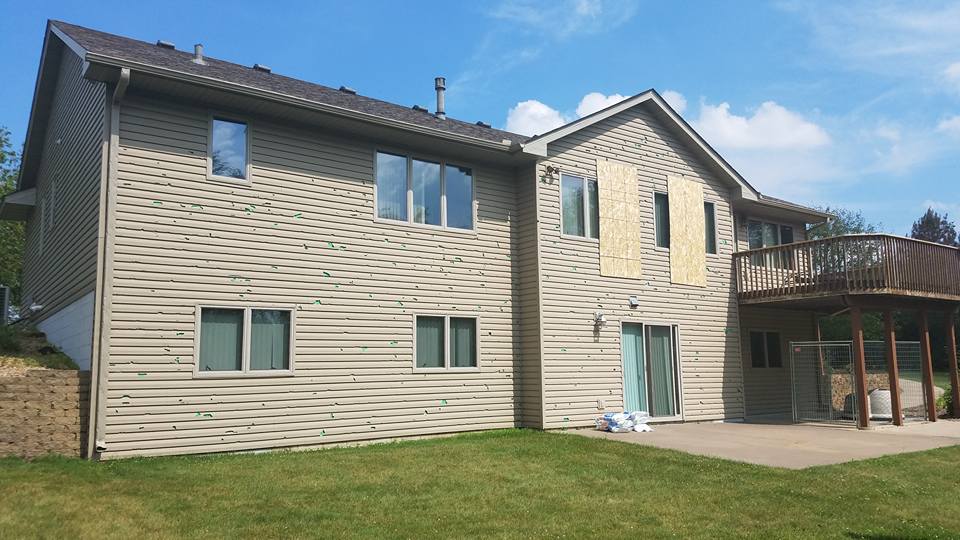 Mother nature can be a powerful beast that we as homeowners have no control over. One day, our home can be in immaculate shape and the next day it can become a home with lots of storm damage caused by mother nature. If this happens to be you and you reside in the Zimmerman, MN area, our team at Refuge Roofing & Siding is a trusted residential storm damage insurance claim contractor that you can count on to come along side and help you navigate the storm damage claim process.
Restoration after Storm Damage
After a natural disaster has hit the Zimmerman, MN area, there is a time where you've got to make quick decisions on who will handle your restoration and repairs. There are plenty of residential storm damage contractors in the area to choose from, but none that bring the total package that our crew at Refuge Roofing & Siding offers. With more than 50 years of combined experience, we've seen it all when it comes to storm damage. Whether you've got roof, siding, gutters or hail damage, we've got your repairs covered. As a complete restoration contractor, we'll get your home back into immaculate shape.
Simplifying the Natural Disaster Claim Process
A big stressor after you've found storm damage on your property is dealing with the insurance company. This stressful process can quickly become overwhelming. The insurance company may not notice all of the damage during their evaluation, so it's important to have a trusted contractor on your side to keep your claim running smoothly. One of our storm damage insurance claim specialists will come evaluate your entire property and document all of the damage that we find. From there, we'll share this with your insurance adjuster so that we can simplify the process of making a natural disaster claim and ensure complete restoration of your home.
If your home in Zimmerman, MN has recently been hit by storm damage, you don't have to take on this issue alone. Instead, team up with our experienced and professional residential storm damage insurance claim contractors at Refuge Roofing & Siding. We want to be that extra support to help you get through this stressful situation.
Give our dedicated staff a call today at (651) PRO-ROOF to see how we can help simplify the storm damage claim process and also make sure that all of your repairs are handled timely and appropriately.