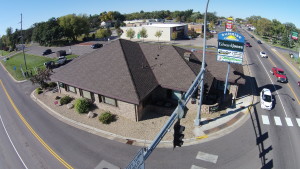 Updating your roof before Mr. Jack Frost comes and shows his icy face will save you from a major brain and wallet freeze this winter. Keeping a protected lid on your home can be all the difference and hiring a handy crew to assist is like having family in the business. For your local and insured roofing contractor near Andover, MN give the GAF certified company a call here at Refuge Roofing & Siding, we are in the business of helping our neighbors – one roof at a time.
When making the leap to the land of reconstruction having a trusted contractor is always key.  After you give us a call one of our certified contractors will meet you on your property for a hassle free and quick estimate to see what the best option for you would be. Whether it is traditional 3-tab, architectural style shingles, metal or even cedar shake.  Our number one goal is to top off your home and button it up before the cold sets in. Don't let your hard-earned money leak through the shingles of your old roof soon, call us today and we can help you save tomorrow with our top of the market craftsmanship!
Andover Residential Roofing Contractor
There are many signs of a failing roof, having an idea on what to look for is a big step as a proactive homeowner. As the lord of your land, maintaining proper maintenance will greatly increase the quality of life in your permanent residence. Have an idea of the many possible threats out there for shingles:
Rain
Sun/Heat
Ice
Hail
Wind
Debris
Falling Trees
UFO Abductions
These are all serious battles that the top of our home's face daily. Finding a qualified roofing contractor that has the material and knowledge to strike back is your four leaf clover. Our master of the craft contractors are insured for your safety, so you are taken care of. To speak with a professional about residential roofing replacement give us a call today!
Commercial Roofing Contractor MN
Owning a business can be quite stressful at times, but also amazing. Owning property for your business, now that is always seeming to keep people on edge. Besides the issues that can occur by mother nature or otherwise, up-keeping your property will need to happen. When customers, clients, business partners come walking up to your establishment would you like them to see;
Roof Age
Algae
Mildew
Mold
Stains
Shingles Torn/ Missing
Curled Shingles
Syrian Refugees Building a Camp
We highly doubt it. Keeping up with the exterior of your company will give comfort to the ones who are coming in. Many people remember but unfortunately do not do the "don't judge a book by its cover"and just naturally react, can you blame the? Make the chances increase of everyone naturally reacting to your offerings in a positive way and soon they will be spreading the good word. Give us a call today here at Refuge Roofing & Siding your local Andover residential & commercial roofing contractor (651) PRO-ROOF!
Save
Save
Save
Save
Save
Save
Save
Save