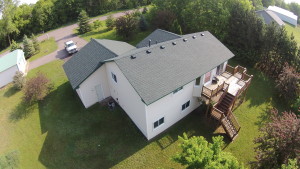 For expert roofing services in the Oak Grove, Minnesota area contact Refuge Roofing & Siding, LLC. Our GAF Certified Roofing Contractors are experienced and equipped to provide you with many choices when it comes to roof installations, roof repairs and replacements. Ensuring quality installation of any roofing materials you choose is critical. Installation directly affects the way your new roof performs during the next storm. Water damage can lead to costly repairs, if you see signs of a leaky roof, contact a Minnesota Roofing Contractor qualified to repair any damages promptly.
Signs of a Leaky Roof
Shingle Damage – Are your shingles worn and tattered? Curled and faded? These are signs your roof is getting old and the materials made to protect your home have expired, in a sense.
Missing Shingles – Do you see shingles in your grass? That is a sign one should not easily overlook, it is a definite sign of a failing roof.
Dark Spots on Ceiling – If you start to notice a portion of your ceiling getting darker slowly, that is a direct sign of moisture and the sooner an expert looks at the damages the better.
Roof Age – If your roof is 20-25 years old, calling a GAF certified contractor for a free inspection won't hurt anything. Water damages from an old and faulty roof will quickly raise the price needed to restore a building's condition.
Residential Roofing Company Oak Grove
Storm damage usually affects roofs, gutters and siding. If your home got hit hard in a recent storm our roofing contractors can promptly come to your home, inspect your roof for free, speak with you and work with your insurance company and adjuster. Our Oak Grove Storm Damage Contractors have been through this experience, let us help you navigate through it and get your home restored.
Commercial Roofing Company Oak Grove
Office, corporate, restaurants, local stores and shopping malls have just the same roofing needs as homes and our contractors have experience working with both steel and asphalt roofing. Our GAF Certified Roofing Contractors can restore the condition of your commercial roofing system, so you can return to the regular.
GAF Certified Roofing Contractors Oak Grove
Whether your home has an old roof that's endured the test of time or storm damages have made your roofing service needs urgent, the team at Refuge Roofing is a leading and Local Roofing Company with positive ratings and RESULTS! We have a premium selection of roofing colors, styles and materials to choose from. For quality roofing products and installation contact our Oak Grove Roofing Professionals online or at (651) PRO-ROOF.