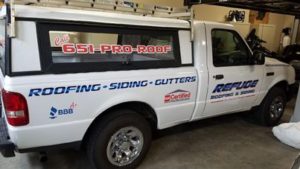 When choosing to partner with a home improvement replacement company, it is beneficial to choose a team that offers the total package. This day in age, in order to stand out, you must have expertise in a wide variety of key replacement areas. That's exactly what you get when partnering with our experienced team at Refuge Roofing & Siding. As a fully licensed and insured general contractor, we are ready to take on your roofing, siding and gutter replacement needs.
Reliable Roofing Replacement
When it comes to protecting your home from Mother Nature, your roof needs to be durable, sturdy and built to last. If your existing roof is on its last leg, it's time for you to team up with our GAF certified roofing replacement contractors. This certification is only met by 3% of roofing contractors nationwide, so rest assured that you're in great hands with our staff. Whether you're interested in an asphalt shingle, steel or a cedar shake replacement roof, we've got you covered.
Siding Replacement Services
Are you ashamed by the look of your current siding? Do your neighbors give you mean looks because your house is bringing down the overall look of your neighborhood? One great way to not only boost your curb appeal, but to also make your home more energy efficient is to invest in top notch replacement siding from Refuge Roofing & Siding. One of the most popular siding options that our customers love is maintenance free vinyl siding. So, put down that old paint brush and get used to top notch siding that requires little to no maintenance. Additionally, our siding replacement comes in materials such as steel, cedar, vinyl/polymer shake and LP® SmartSide®.
Gutter Replacement Contractor
One home improvement replacement project that often gets overlooked is your gutters. While this feature of your home may not stand out, it is extremely important. Functioning gutters keep your home and foundation dry from rain, snow, etc. Tap into our long lasting aluminum replacement gutters that will last for decades. To top it off, we can even install gutter screens and covers to keep the leaves and debris out of your gutters.
So, if you're in need of some home improvement replacement projects to be completed, choose a company that can handle it all. To request a free roofing, siding and gutter replacement estimate, give our crew at Refuge Roofing & Siding a call today at 651-PRO-ROOF.