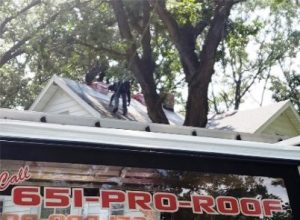 Have the shingles on your North Metro home seen better days? Shingles are one of the most important parts of the exterior of your home. These shingles help keep your home protected from rain, snow, ice and heavy wind. Without shingles, your home simply wouldn't last in the weather conditions found around the North Metro area. So, if your shingles need to be replaced, it's important to find a company that utilizes the best shingle material and has a reputation for exceptional shingle installation. That's exactly what you get when working with Refuge Roofing & Siding. You can Count on us to be on time, on budget and of course the best shingle replacement contractor in the North Metro. Give us a call at 651-Pro-Roof Today.
GAF Certified
There's just 3% of roofing contractors in the country that are GAF Certified. Our team at Refuge Roofing & Siding is one of them. This certification provides our clients with the peace of mind that our shingle replacement team is properly licensed, trained, insured and certified. We take the time necessary to stay on top of all of the latest technologies and shingle replacement practices to ensure that our clients are receiving the best of the best at all times.
Free Shingle Replacement Estimate
Concerned about the price tag that may accompany your shingle replacement home improvement project? At Refuge Roofing & Siding, we want you to be able to see the financial side of your shingle replacement project before having to sign on any dotted lines. That's exactly why we proudly offer a free shingle replacement estimate that will break down the cost of your entire project. There are no hidden costs when working with our committed shingle replacement crew. Our shingle replacement consultation takes about 30 minutes before you know exactly how much your shingle replacement project will cost.
Architectural Style Shingle is Best
At Refuge Roofing & Siding, we'll gladly install any type of shingle that you'd like, but our expert recommendation for clients will always be to invest in an architectural style shingle. This type of asphalt shingle holds up best against the tough weather that mother nature throws at the North Metro. This style shingle boost the curb appeal of your home while providing a longer life expectancy than other style shingles.
So, if it is time to replace the shingles on your North Metro home, look no further than Refuge Roofing & Siding as your preferred shingle replacement contractor in the area. To setup a free shingle replacement estimate, give us a call today at (651) PRO-ROOF.