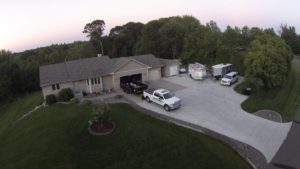 When it comes to siding and roofing, it's safe to say that they are both pretty essential. Your home is your place of refuge from the outdoors. It is your safe haven.  If you are looking for a reliable and affordable siding and roofing company, let Refuge Roofing & Siding be your refuge. Let us keep you and your family safe and dry, away from the Minnesota elements.
Your Premier Roofing Company
If you are looking specifically for roofing services, you just can't beat our professionals here at Refuge Roofing & Siding. We are licensed, trained, certified and insured so that we can provide quality and long lasting roofing services to all of our customers. We are even GAF Certified, something only 3% of roofing contractors in the nation have ever obtained. With so many years of experience and training, we are confident when we say that we can work with any type of roof, brand or style that you have. From your 3 tab style asphalt shingles to a Standing Seam metal roof, our professionals have the knowledge and experience to install or repair any type of style, material, design or brand that you desire.
Your Premier Siding Company
Siding can make or break the look of your home. It's your first line of defense against the wind and the first thing people see as they enter your property. Therefore, it's important to make it look good, while also making it as durable and efficient as possible. Refuge Roofing & Siding is determined to make the most out of your siding, providing you with aesthetically appealing options that hold up in any kind of Minnesota weather. Siding can vary in colors, styles, thickness, and effectiveness. Our professionals will work with you in determining the best option for you and your home. We also offer all sorts of different siding options that are all energy efficient and ideal for your location. From maintenance free vinyl siding to the beautiful and elegant cedar siding, Refuge Roofing & Siding carries it all.
Whether you are completely renovating your home, needing some simple repairs to be completed by a professional or if you are looking for a siding and roofing company, look no further than our expert professionals at Refuge Roofing & Siding. Let us be your refuge. For more information or to get a free estimate, call us today at 651-PRO- ROOF (651-776-7663).