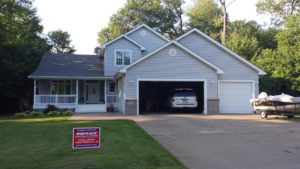 If you are looking for a licensed, bonded, and insured siding contractor in Coon Rapids offering a wide variety of siding options for your home, or if you need to repair or replace your home's current exterior, Refuge Roofing has you covered.  Nowadays most exterior siding options are essentially maintenance free; they never need painting; and you can recover as much as 80 percent of the cost of applying the siding to your home.  Additionally, it's great at protecting your home from the extremes of Minnesota's weather.  You can trust the team at Refuge Roofing to always prioritize two things: high quality work, and unsurpassed customer service.
Exterior Siding Options
We offer a large menu of colors and styles of vinyl siding, and we will provide you with all available options to help you narrow down your choices.  The number of choices available now in vinyl alone is far greater than just a decade or two ago.  From colors, to thickness, to texture, vinyl siding is not what it used to be.  We are experts with it, but we do not expect you to be.  That is why we prioritize your experience as a customer by sharing our knowledge in as helpful a way as possible.
In addition to vinyl siding, we also offer:
LP® SmartSide® siding, which offers the beauty of traditional wood, and the durability and engineered woods. This option comes with a 50-year limited warranty.
Steel siding is even more durable than vinyl. It holds up against severe weather, maintains color very well, and will not rust, peel, or chip.
Cedar siding is known for its elegance and natural, classic appearance. It holds up extremely well against all weather conditions and resists rotting and pests, but it does require painting or staining fairly frequently. If you choose real cedar, you definitely want it to be installed by a contractor like Refuge Roofing because it requires the specific skills we possess to install correctly.
Vinyl/polymer shake is another maintenance-free siding choice. It provides the same kind of rustic appeal of cedar shakes and shingles, but does not require the maintenance of real cedar.
Experienced Siding Contractor Serving Minnesota
Our crew will install your siding to the highest professional standards and we will address any problems or concerns you may have quickly and to your satisfaction.  If you are interested in having us install your siding to update the look of your home or improve curb appeal, we can help.  If you own a historical property, we can also help you restore your home to look like it did when it was built. We can help you get the look you want for your home, and you will have the peace of mind that whatever we have installed adds protection to the structure of your home.
Give us a call at (651) PRO-ROOF today to learn more or schedule a free quote!