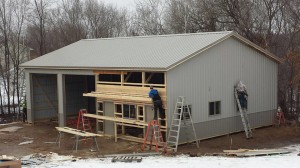 Are you looking to improve the exterior of your humble abode or blossoming business? If so, contact us here at Refuge Roofing & Siding today for a hassle-free estimate from a licensed and insured siding contractor near Ham Lake! When you look at your establishment are the colors fading? Are your heating and cooling bills continuously increasing as the temperatures outside begin to drop? How long has it been since your home or business has had exterior remodeling, painting, or maintenance done to it? If you were able to refinance after your home has been upgraded at a very high percentage, would you be interested in hearing more? These are all questions you should be asking yourself or finding the answers so you know as a smart and pro-active property owner that all of your ducks are in a row, your building looks phenomenal, and you are getting paid to upgrade with so many positive attributes. Please, don't let the outside of your home fall apart because of money, money is everywhere and printed daily. Time, on the other hand, unfortunately, is of the essences and the longer you wait the more problems will snowball, all because of that one issue. Give us a call today and let us help you make some upgrades on your vinyl siding!
Residential Siding Contractor
Your home, your palace, and your slice of paradise shows a lot of your character. Choices of colors, maintenance obtained, even the style. That is the great thing about owning a home, you make your own decisions and whichever one you make is great! When looking into replacing siding, here are some of our siding options for residential homeowners:
Vinyl
LP® SmartSide®
Steel Siding
Cedar
Vinyl/Polymer Shake
We do not segregate here, the options for homes and businesses are the same so don't you worry many designs can be custom to your wishes, we also offer aluminum soffit & fascia as well that gives the extra glow for tieing in your brand new upgraded siding to your roof! Give your local residential siding contractor in Ham Lake a call today for an estimate!
Siding Contractor Commercial
Owning a business, company, establishment or what have you, comes with a bountiful amount of priorities and responsibilities. When needing to be constantly involved in the daily aspects of your growing or established place of business, wouldn't it be best to call a professional if you feel your siding is;
Rotting/Warping
Loose/Cracked
Growing a Little Extra/Mold
Bubbles/Holes
Animals/Critters Living Area
Whether it's because of these or storm damage our qualified contractors are here to help!
When approaching your hard-earned lively hood imagine if you were a customer, client or potential business exchanger in some way, would you be thrilled to keep walking into your front entry? Or would you notice a few flaws then they start appearing and that unwanted sound that comes out of their mouths, it only has two letters but they are so damaging. No. You never want to hear the word 'no', ever since you were a child. Let us help you not let that happen and upgrade your commercials siding today with us here at Refuge Roofing & Siding (651) PRO-ROOF!
Save