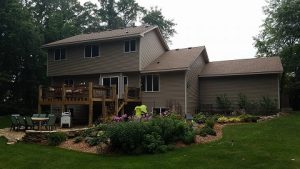 Has the existing siding on your home seen better days? Not only can poorly functioning siding be an eyesore, but it may also be contributing to your high monthly energy bills. There's no better time than now for you to find a trusted siding repair team near you in Isanti, Minnesota, that can handle all of your siding repair needs affordably. That's exactly what you get when partnering with our siding professionals at Refuge Roofing & Siding.
At Refuge Roofing & Siding, we know that not many homeowners consider themselves experts when it comes to siding. Our crew, however, prides ourselves on being siding experts. We are knowledgeable, experienced and have access to a wide variety of siding materials to fit every one of our clients' needs. Depending on the type of siding you are looking for, as well as the size of your budget, a big part of our partnership with our clients is helping them make the right decision for their siding repair needs. Some of the siding options that we will help you decide on include:
● Vinyl Siding
● LP Smartside Siding
● Steel Siding
● Cedar Siding
● Polymer Shake Siding
Maintenance Free Siding is Key
Another perk of choosing to work with our team at Refuge Roofing & Siding for your siding repair needs is that our siding repairs and replacement services utilize siding that is maintenance free. Our siding options for your Isanti, MN home requires no painting, sealing or caulking. Additionally, it will not rot in the future. All you need to do to ensure that your siding repairs or full replacement continues to look great is to use a pressure sprayer or garden hose to spray it off with water every so often.
Free Siding Repair Quote
Has the fear of the price tag that comes with siding repair been the reason why you've been putting off these needed repairs for so long? Well, by partnering with Refuge Roofing & Siding, you can't use that as an excuse any longer. Thanks to our free siding repair quotes, we'll provide you with an accurate estimate around the financial cost of this project. This will allow you to see first-hand the expected out of pocket cost for your siding repairs before you commit to any of the work being done. If after you decide that now is not the right time for you to commit to these repairs after reviewing our estimate, there are no hard feelings at all. We are confident, however, that you will find our siding repair services to be very affordable.
Don't put your siding repair needs off any longer. Now is the time to partner with a trusted siding repair team near you. If you are in Isanti, MN, pick up the phone and call our team at Refuge Roofing & Siding to request your free siding repair quote today. Contact us at (651) PRO-ROOF to learn more.