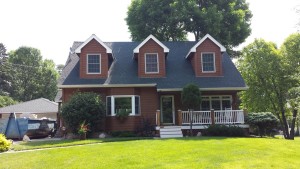 Looking into new siding for your home? Then you've probably explored a few Professional Siding Contractor's Product Selections. Siding would essentially be considered the face of your dwelling, especially when remodeling for home improvements. Keeping the outside of your home up-to-date with high quality materials will end up saving you annually by keeping money in your pocket instead of out to the gas or electric bill. Here at Refugee Roofing & Siding we provide top of the line materials because that's what it takes to survive these drastic changes throughout the year in Minnesota. We experience most of the harshest weather conditions, our homes, that we have worked so hard to build for our family and ourselves deserve the best. For any questions or if you need an estimate from a siding replacement contractor in Oak Grove, give us a call!
Types of Replacement Siding Options
There are many different variables when it comes to siding options, colors, even the vibration it gives off after an updated siding replacement job is buttoned up. Our licensed and insured siding contractors serving Oak Grove are highly qualified with many years of experience, they have seen it all. With their past knowledge they can "paint a picture" for you to give you the best idea on what your home will look like on each of your chosen styles for siding replacement, or color choices.
Vinyl Siding- The most popular style as of today would still be the tough and traditional vinyl siding.
LP® SmartSide®- Coming with a 50 year warranty, traditional wood look comes pre painted. Picking out the paint is half the fun, with this strong termite free timber, your home will look sleek and magical.
Steel Siding- When in need of something stronger than vinyl. A steel siding that won't rust, peel, or chip. Offered in many colors and able to withstand a lot more from the elements or even the kids.
Cedar Shake Siding- Always a classy pick. Cedar shake siding has an elegance to it that never fades. Unless you do let it fade which will then turn very grey. Every 3-5 years it is suggested to re-stain these beautiful siding faces.
Vinyl/Polymer Shake Siding- Awesome substitute for the more maintenance version, cedar shake. This vinyl shake siding comes in many different colors to choose from. Give us a call about any of your siding questions!
Along with Siding Replacement: Soffit & Fascia
Having your soffit & fascia touched up can be done with us here at Refuge Roofing & Siding as well. We have handy and certified crews here that take pride in their work while treating your home as if it were their own. Locally owned and operated our GAF certified installers can make any change on your next home improvement hassle and stress free. Give us a call today for your soffit & fascia needs!
Whether you need siding replacement from storm damage near Oak Grove, or you just would like to spruce things up a little bit. We are a contracting company you can trust, we take care of the insurance company if there is a possible claim. We help you decide which would be best for you and your home, and we come back with the warranty if there are any issues. Hassle free just as life should be, give us today for a quote (651) PRO-ROOF!