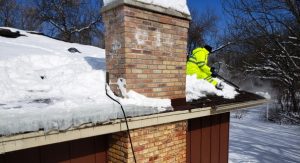 St. Louis, Park, MN has its fair share of snow and ice each winter. Accumulation of this winter weather should come as no surprise to homeowners in the area. So, what plans do you have when it comes to snow and ice removal from your home, especially in areas like your roof? This is definitely not a project that you should try and handle on your own. Instead, count on our experienced snow and ice removal team at Refuge Roofing & Siding to handle this for you.
We can not only remove the problem, we can make it go away for good. Why put yourself in a constant state of worry wondering when…not if it will happen again!
Take Weight off your Roof
Ignoring snow and ice accumulation on your roof can be detrimental to your home if you are not careful. Snow and ice accumulation add a significant amount of weight to your roof, and if your existing roof is weak in any areas, the added weight could cause significant damage to your roof. At Refuge Roofing & Siding, we know the necessary steps to safely remove the snow and ice from your roof. Additionally, we know how to handle this project safely. So, keep that ladder stored in your garage and stay warm indoors while our professional crew handles all of your snow and ice removal needs.
Ice Dam Removal With Steam
Ice dams are another issue that often arises around the St. Louis Park, MN area. The way ice dams occur is icicles first form on the roof of your property. The heat from the inside of your home escapes through the roof. This causes snow on your roof to melt, bringing all of the liquid to the edge of your roof. The fascia of your roof often remains cold, which causes the liquid runoff to refreeze and develop these dangerous ice dams. At Refuge Roofing & Siding, we have mastered the ice dam removal process by utilizing a low-pressure steamer to get rid of the ice dam build up. Many other companies put other parts of your roof in danger because of the way they remove ice dams. Our staff, on the other hand, does not damage any other part of your home or roof during this process. Lastly, we can incorporate ice dam prevention services if you are interested so that you don't have to worry about ice dams in the future.
Snow and Ice Removal St Louis Park, MN
So, if snow and ice has built up on your roof in St. Louis Park, MN, it is time for you to contact our removal specialists. We offer free quotes on your snow and ice removal needs so that you can get an understanding of the costs around your project before committing to any of the work. So, what do you have to lose? Give Refuge Roofing & Siding a call today at (651) PRO-ROOF to learn more about our top of the line snow and ice removal services.