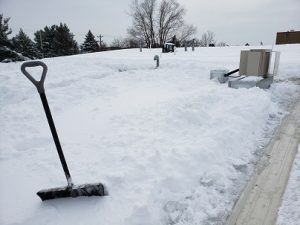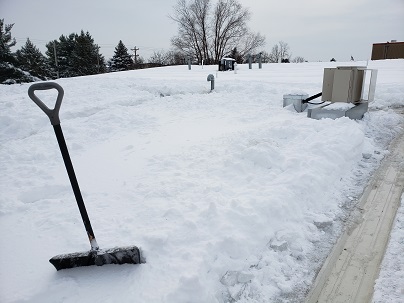 Every winter, Coon Rapids, Minnesota gets hit by heavy snow accumulation and ice. The unfortunate news is that many homeowners around Coon Rapids, don't think to remove the heavy snow and ice accumulation from their roof. In turn, our team regularly gets calls about roof damage and replacement because of the excess snow buildup that caused damage to a roof. Now is the time to partner with a snow removal company in Coon Rapids so that you are prepared when the next heavy snowstorm hits the area. Our team at Refuge Roofing & Siding are the trusted snow removal company in Coon Rapids that you can count on.
Danger of Snow Accumulation on Your Roof
Sure, snow looks light and fluffy and it is when it's resting in your hand. However, as snow accumulates and builds up, it can actually become quite heavy. With the amount of snow that hits the Coon Rapids area, snow buildup on the roof of a home is very common. After a large snowstorm, this added weight on your roof can end up causing significant damage to your roof and even your gutter system. Our team at Refuge Roofing & Siding never wants to get the call from clients that they now have a leak in their roof because the snow was removed from their roof. Snow removal is an affordable process that you need to seriously consider. Especially when comparing it to the cost of a roof repair or replacement, it should be a no brainer to partner with our snow removal company in Coon Rapids, MN.
Ice Dam Removal in Coon Rapids, MN
In addition to snow removal services, our team at Refuge Roofing & Siding can also handle your ice dam removal needs as well. The same way that snow can accumulate on your roof, so can ice. This ice buildup, best known as an ice dam, can cause significant damage to your roof and gutter system as well. As a snow removal company, we are also proud to offer ice dam removal services as well. Using a low-pressure steamer, we're able to safely remove the ice dam and snow accumulation without causing any other damage to your property.
Don't go another winter in Coon Rapids, MN where you let the snow and ice continue to build up and weaken your roof. There's no better time to reach out to Refuge Roofing & Siding and develop a relationship with our snow removal team. Give us a call today at (651) PRO-ROOF to learn more about our proven snow removal services.