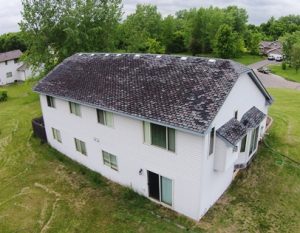 Refuge Roofing & Siding is a trusted and experienced Spring Lake Park roofing contractor. Your roof is under constant stress throughout the year. Rain, wind, extreme temperatures and, of course, snow and ice can cause damage to your roof without you even noticing…until it is too late. Do not wait until you have a leak in your roof to contact the team at Refuge Roofing & Siding. Our contractors can complete an annual roof assessment so that you can be confident that you do not have any significant roof damage.
As one of the states that annually experiences all four seasons, we have come to expect to experience the extremes of each season. To people who live south of our state, our weather is characterized by snow and extreme cold. But we know that summers can be brutally hot, and spring and autumn can bring strong storms. When severe weather is a possibility—and in Minnesota that means all the time—your first protection from it is provided by your house's roof. If your roof has been damaged by previous storms, or just by age, Refuge Roofing & Siding is an unbeatable option for repair and/or replacement.
Roof Repair or Replacement in Spring Lake, MN
We have made an investment in our community by hiring professionals who understand what good roofing practices consist of, and we ensure that they apply their expertise on every job we are contracted to do. Your house is as important to us as your roof is to you. If it is time for your roof to undergo an assessment, we hope you will contact us at Refuge Roofing & Siding so that we can prove to you that we mean what we say.
Importance of an Annual Roof Assessment
We will give you an honest appraisal of your roof's condition and we will be happy to explain in detail the actions we recommend in the process of getting your roof back to optimal condition. Refuge Roofing & Siding is GAF-certified, which means that we have undergone extensive training in roofing practices, which in turn benefit our clients. In fact, only about three percent of roofing companies in the United States have received GAF-certification. We want our customers to understand the depth of our commitment to excellent work and customer service.
Another important aspect of our service is choice. We are happy to advise you on your choice of roofing materials, and we will empower you to make the most informed choice. Whether you settle on architectural shingles, cedar shake shingles, or steel roofing, we will do everything we can to make you happy about your choice. For more information about our roof contractor services in Spring Lake, MN, call us at 651-PRO-ROOF.