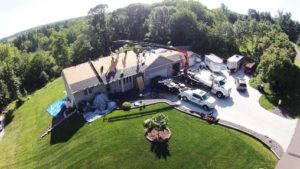 Another round of severe storms has rumbled through the metro area. Reports of large hail and high winds could dampen the outlook for having a storm damage free home. Before more damage is done to the home, its strongly advised that residents check for hail, wind or water damage to roofing, siding and gutters. Homeowners insurance should cover a range of storm damages as long as a claim is submitted on a timely basis. Having a trustworthy storm damage repair contractor to expertly document any and all exterior damages can assure a successful and non-stressful outcome. Refuge Roofing & Siding is a trusted and reliable contractor that provides top quality exterior home repairs after a storm. We put your family's physical and financial wellbeing as our number one priority.
Hail Damage Roofing Repair
Multiple reports of hail damage have been reported following the latest severe thunderstorm. Roofing contractors at Refuge Roofing & Siding are specially trained to spot hail damage to roofs. Large or persistent hail events can cause considerable damage to shingles, soffits, vents and more. Identifying roof hail damage requires a keen eye and knowledge of residential roofing systems. If you are reading this we know you have hail damage.
The home repair contractor that you choose to assess, document and repair your storm damaged roofing components does matter. Its not easy to clean up all of the damage and restore a storm damaged roof to pristine condition. Since Refuge Roofing & Siding is a GAF Certified Roofing Contractor, you can rest assured that our team has all of the skills, training, quality materials and workmanship to get the project completed as professionally as possible.
Storm Damaged Siding and Gutter Repair Services
A tornado is not the only weather event that can cause considerable damage to residential siding and gutters. Strong gusty winds and hail are often to blame for storm damage to Minnesota homes. Refuge Roofing & Siding provides fast, efficient storm damaged home repair services for homeowners just like you who want fair compensation for their loss. Our storm damage restoration specialists can clearly communicate what types of repairs are recommended and get insurance company approval before work is completed. If your insurance claim is rejected, you will not have to pay for our services.
Certified Exterior Storm Damage Repair Company
If your home has been damaged by recent storms, don't wait for predatory roofing or siding companies to come knocking on your door. Call in the experts at Refuge Roofing & Siding to handle all of your exterior storm damage repairs as seamlessly as possible. Our reputation for service excellence is just one reason to put your trust in Refuge Roofing and Siding. We are a GAF Certified Contractor that provides beautiful, economically friendly results.
Contact Refuge Roofing & Siding for a Free Quote on repairs to residential exteriors after the storm. Dial (651) PRO-ROOF or 651-776-7663 Today!