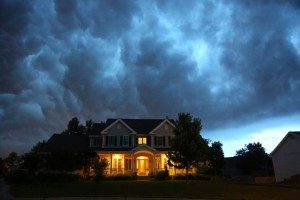 Dealing with storm damage is something that homeowners never want to deal with. Mother nature is so powerful and can cause damage to any structure that comes in its way. That includes even the strongest built homes. Whether your home was damaged because of strong winds, snow and ice accumulation, hail, a tornado, etc., it's imperative that you are aware of our team at Refuge Roofing & Siding who proudly offers storm damage repair services near you in Minnesota. Your Community is our community and we want to help keep our neighbor's home safe and secure.
Restoring Your Home after Storm Damage Occurs
At Refuge Roofing & Siding, we provide the community around us with skilled and highly trained storm damage repair specialists. No matter what type of storm damage that you are dealing with, we are here to help. Our team regularly addresses storm damage related to the siding, roof, gutters or windows of one's home. Since storm damage is so unpredictable, it can cause additional stress to families because they are not normally prepared to deal with the home damage. Our team not only restores your home after storm damage occurs, but we also help reduce the stress for our clients. Whether that means dealing with the insurance company or helping you make the right decisions for your home, Refuge Roofing & Siding has you covered every step of the way.
Help with the Insurance Claim Process
Homeowners' insurance is something that homeowners know they have, but the majority have no clue how the claims filing process works. That's ok, as long as you put your trust in our team at Refuge Roofing & Siding. Our team works with all insurance companies and will always make sure that our clients are treated fairly by these companies. One of our storm damage experts will evaluate your home after the storm and identify all of the damage that occurred. From there, we will consult with your insurance claims adjuster regarding pricing and damage. The best part about our process is that you are not going to be financially responsible for more than your insurance deductible, unless you decide to have other house repairs completed at the same time.
With more than 50 years of combined experience, our team at Refuge Roofing & Siding is a crew that you can trust. Offering storm damage repairs near you in Minnesota, keep our team in mind should you ever run into storm damage. To learn more about our storm damage repair services, give us a call today at (651) PRO-ROOF.