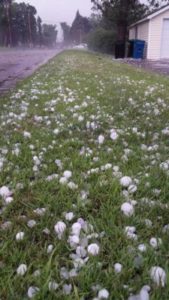 With the recent severe weather that we've seen in Lino Lakes and the surrounding areas, your roof may have sustained some hail damage that should be addressed as soon as possible. Hail damage can sometimes be hard to spot, and is often overlooked, especially by an untrained eye. At Refuge Roofing, we're storm damage restoration experts with experience spotting and repairing hail damaged roofs. It's better to be safe than sorry by going ahead and scheduling a free roof inspection to determine if your home was affected by any of the severe weather that has come through our area as of late.
Insurance Approved
Refuge Roofing has been performing roof repairs and roof replacements in the Twin Cities and surrounding areas for decades. In this time, we've developed a strong following of customers that continue to look to our team whenever they have any type of roof issue. This level of service is extremely important to us and is the reason most of our business actually comes from referrals. We provide all types of exterior remodeling services for both residential and commercial customers in and around Blaine and Coon Rapids Area.
Our company is always focused on finishing projects with such high craftsmanship that they'll stick around without issue for many years to come. We offer an industry leading warranty on our roof replacements and are always available should any problems arise after the project has been completed.
It's always our goal at Refuge Roofing to treat each customer as if they are #1. Many companies may attempt to live by this mantra, but few truly follow through year after year. We would encourage you to talk with some of our past customers to see just how much focus we put on the highest quality craftsmanship and customer service.
Minnesota Storm Damage Repair
Don't delay having one of our roofers come out to your home or business to give you a free roof inspection. This inspection could unearth roof damage that you never knew was there. Should we find any type of storm damage or hail damage, we'll be happy to work directly with your insurance company to get the repairs completed as quickly as possible.
Go ahead and pick up the phone to schedule a comprehensive storm damage assessment with one of the roofing contractors at Refuge Roofing today. We can be reached by phone at (651) PRO-ROOF.