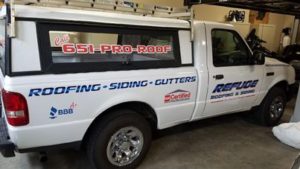 Storms come without warning and can bring heavy rain, wind and hail in the summer months and ice and snow in the winter. Over time your home can become more and more vulnerable to damage when storms hit. If your exterior siding has been recently damaged by the elements, it is important to hire a reputable contractor to make the necessary repairs. Refuge Roofing & Siding specializes in siding repair after a storm and works directly with insurance company. FACT, Insurance adjusters are not required to point out damage that they see when you file a claim asking them to help. That is your responsibility, or the company you assign that responsibility too. This alone shows you, that once you file a claim, your insurance company is not acting in YOUR best interests. You need an expert on your side!
Siding Repair After The Princeton, MN Storm on 7/12/2018
The team at Refuge Roofing & Siding understands that the aftermath of a storm can be extremely stressful and time consuming. Depending on the level of damage, you may need immediate repairs made so that further water damage does not occur. Our crew is dedicated to offering the highest quality storm damage repairs, working directly with the insurance companies allows your family to focus on the recovery process. Most insurance companies actually require you to have a contractor verify any damage before they send a claims adjuster to your property to assess the damage. We work with insurance companies all the time and can manage this entire process for you.
Siding Crews Are Ready When You Are
Refuge Roofing & Siding will serve as your advocate with your insurance company and identify all storm damage. We will estimate the cost to repair this damage at a fair price. Then, communicate directly with your adjuster, giving details about the damage and negotiating the price on the spot. We are here to take some of the stress away after a storm has wreaked havoc on your home and help you get back to normal as quickly as possible.
Storm Damage Siding Repair in Princeton
Your siding is one of the most important parts of the exterior of your home. It protects the interior of your home from the elements. When compromised after a storm, the exterior damage can lead to serious damage inside your home as well. Your exterior siding also offers an aesthetically pleasing look to the exterior of your home. In addition to working directly with your insurance company, we will also take care of the necessary siding repairs. We will complete the repairs quickly and restore your home to its pre-storm condition so that you can breathe easy. If you are concerned that the siding on your home has been damaged as the result of the 7/12/2018 storm that happened in Princeton, Minnesota, call Refuge Roofing & Siding at 651-PRO-ROOF.