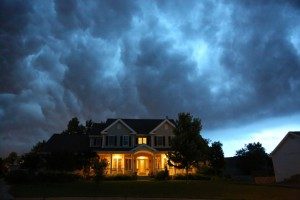 Isn't it crazy how sometimes the most powerful thing in this world are forces that you cannot even see? In Minnesota, wind damage is among some of the top reasons why roof repairs are needed. At Refuge Roofing & Siding, we are a fully licensed and local general contractor that specializes in wind damage roof repair. If you feel like your roof may be damaged from the wind, let Refuge Roofing & Siding take care of you.
Roofing Inspection
Before any wind damage roofing repairs can be done, we believe that it is crucial to identify your problem areas first. When you choose Refuge Roofing & Siding, you are choosing quality. The first time you call us, we want to know all of your concerns. We offer a hassle free, no obligation estimate and consultation at a time that is most convenient for you. During this consultation, one of our licensed and skilled contractors will come and evaluate your roof, looking at every inch of your roof and inspecting your needs. We will take note of any repairs or upgrades that might be necessary for your roof. Best of all, we will work with your insurance company to get you approved for the work so that all you have to pay is your insurance deductible. Once that is agreed upon, the real work can begin.
Wind Damage Roof Repair
When you have wind damage on the roof, your roof quickly becomes more susceptible to further damage. If left untreated, a vulnerable roof can lead to holes and leaks into your home. At Refuge Roofing & Siding, we work quickly and efficiently to repair the wind damage that has happened. We have experienced and knowledgeable installers to complete the process from beginning to end so that your roof is beautiful and functioning properly once again. Refuge Roofing & Siding is a GAF Certified Installer and we have relationships with the best suppliers around including ABC Supply, Roof Depot and Alside Supply. That being said, everything we do can be done with precision and in a timely manner.
If you think you have wind damage on your roof, go ahead and give us a call. There is really no reason not to! Let Refuge Roofing & Siding come take a look at your roof and see if the damage is there. For more information on wind damage roof repair, give us a call today. Contact Refuge Roofing & Repair at 651-PRO-ROOF.