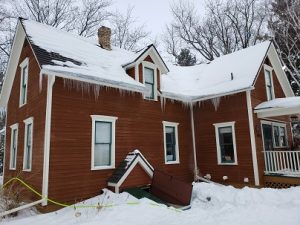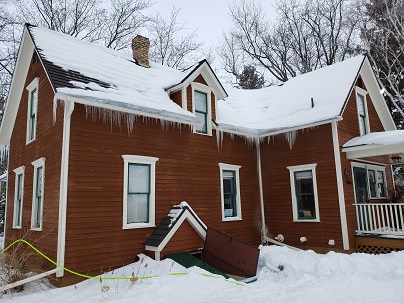 Autumn is the time of year when many homeowners feel a greater sense of security knowing that they took action to have their gutters cleaned before the bulk of leaves and needles fell from the trees and winter arrives with the potential for significant snow, rain, and ice. If you did get around to having your gutters cleaned this fall, Refuge Roofing & Siding offers a trusted comprehensive gutter cleaning service in Oak Grove, Minnesota, that can give you peace of mind. Our team can inspect and clean your gutters virtually any time of year and help you save time, money and a lot of hassle in the long run.
Why Regular Gutter Inspection and Cleaning is Important
If there is one thing we know about the weather in Minnesota, it is that we experience the harsh extremes of all four seasons. The most severe of the seasons in our state is, of course, winter. When the snow falls and accumulates on the roofs of our homes, our homes are challenged to do their jobs. Gutter systems are designed to move water and debris away from the more vulnerable parts of our homes. When snow and ice accumulate in large enough volume on our roofs, gutters can be overwhelmed, even when they have been cleared of debris. Gutters that are clogged with leaves, pine needles, and other debris are challenged even further.
Debris building up in your gutters increases the likelihood that ice dams will form on your roof, which can force melting ice and snow under shingles and structural components of your roof. The most common result is a leaking of melted ice and snow entering your home. If you are lucky, the leak will make itself known, giving you a fighting chance of addressing the problem before it does much damage. But if you are not so lucky, the water that infiltrates your home will go undetected, damaging structural components of your roof and/or your home's siding.
Oak Grove Gutter Cleaning Service
There are many reasons it is important to ensure that your home's gutters are cleaned and maintained properly. Our gutter cleaning service is backed by our commitment to treat all customers with respect, respond quickly to your needs and offer competitive pricing. Our goal is to earn your trust and, in the process, help you feel more confident that your home will once again win the seasonal battle with the elements.
For a free quote on a gutter cleaning or for installation of new gutters for your Oak Grove home, call 651-PRO-ROOF.