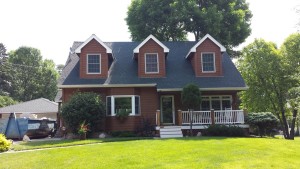 Are you needing a new look before winter? Give the professional Andover siding contractors a call to have your home wrapped with a brand new look. Here at Refuge Roofing & Siding, we are a top rated contracting company knowledgeable in the field of exterior upgrades, repairs and replacements. Whether it is storm damage and you need help with your insurance company or if you just welcome some change. We are the right team for you. Being in the industry as long as we have there are many different adaptions you must face. We have. That is but one reason why we are so quick and efficient, there is no match when it comes to the best siding company near Andover, MN!
Siding Contractor 4 Reasons: Why Siding is Important
Individuality- Being a home owner you need individuality. Especially when living in subdivisions or townhome developments. We can help you get there one row of siding at a time!
Home Insulation- Keeping your home insulated in the winter to keep the heat in and cool in during those hot summer days. Having our professional siding contractors install new siding on your home will save you money on your monthly bills and keep you more comfortable!
Raising Value- Up-keeping your home will always increase the value of your property. Increasing the neighborhood value. By you creating the trend it could ultimately grow and others will join in the transformation from old to new.
Pride- Of being able to treat yourself and your home a place that you and your family spend a lot of time in. Taking pride in the home you have worked your whole life to receive and maintain will also give you a little pep in your step, even when you leave.
Being a GAF contractor, we are educated on all of our industry's innovative materials that keep up even in the worst of conditions. We get hammered on by many extreme elements in Minnesota. It is wise to have a home wrapped in the best and install by the best. Our certified siding contractors are qualified to install many designs for your siding renewal.
Vinyl
Cedar
Steel
LP® SmartSide®
The choices to choose from when replacing your siding are numerous, as are the choices of local siding contractors, including our professional siding contractors.
Of course, there are more reasons for changing the look of your home… like hiding from your in-laws. Just don't forget to change one of the house numbers and park in the garage (I kid, of course). But seriously, you have found the right siding contractor serving Andover! Give us a call today and let us help you refresh your lifestyle (651) PRO-ROOF!
Save
Save