The awesome force of nature can catch homeowners off guard when a severe storm rolls in bringing with it strong wind and large (1″) half dollar size hail. The aftermath of a storm like this can leave home exteriors extensively damaged and in need of professional help. Damaged, twisted or missing shingles and or siding following a powerful storm can leave your home vulnerable. Knowing what to do and how to deal with siding and roof repair after a storm could save you valuable time, effort and money when you call a reputable siding contractor. Well, this happen on August 3, 2018, in Burnsville, Minnesota. And the residential roofing and siding experts at Refuge Roofing & Siding are here to help. A team of dedicated storm repair specialist that can restore your home to its former pre-storm condition, or in many cases better than before. If you are reading this we know you have storm damage!
Hail Damage Caused by Burnsville, MN Storm on 8-3-2018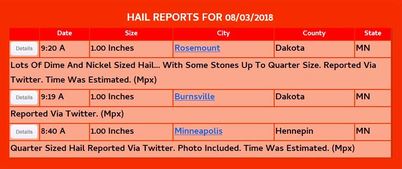 It is not uncommon for Minnesota residents to find themselves in a severe storm watch or warning area. Even a fast-moving hail and windstorm moving through can result in siding that is speckled with holes or torn off in places. You could be left with an unsightly mess and less protection for your home. Damaged siding can leave your home vulnerable to more costly interior or structural damage that lowers the home's value. Property owners in Burnsville, Minnesota have discovered numerous siding and roof damage caused by this storm on 8-3-2018.
• Dents, dings, speckles or holes in siding
• Missing sections of siding
• Water damaged siding
• Broken, bent, twisted, scratched or warped siding
Match Existing Siding Color and Material
Quality, residential, exterior siding is one of the home's first and best lines of defense against the elements. Storms often damage siding on just one or two sides of the home leaving home owners with a dilemma. Trying to match the color and materials of replacement siding to the existing siding can be very difficult. A reputable siding replacement contractor can assist with finding the best match for your home.
Honestly, most siding is only available for two or three years, then siding manufactures discontinue it. Insurance companies usually will not agree to reside the whole house so all the siding matches, unless "you the home owner" have a siding professional acting on your behalf. Our storm assessment professionals are well known by the insurance claim's adjusters, and our documentation is so spot on that they usually just let us get your house re-roofed and re-sided without question.
High Quality Replacement Siding Materials
Professional installation of high quality, weather resistant exterior siding is an excellent way to lessen the effects of damaging wind and hailstorm events. Refuge Roofing& Siding installs a wide variety of replacements not that can stand up to Minnesota's unpredictable weather beautifully.
• Vinyl Siding
• Fiber Cement Siding
• Cedar Shake Siding
• Masonite Siding
• Shake Siding
• Steel Siding
• Board & Batten Siding
Insurance-Approved Storm (HAIL) Damage Repair Contractor Burnsville, MN
If the roofing and or siding on your home has been damaged by the recent hail storm in Burnsville, MN area on 8/3/2-18, one call to Refuge Roofing & Siding can help. As an insurance-approved storm damage repair contractor for Burnsville, MN, we will work with your insurance company ensuring all the damage is repaired as quickly as possible and the costs are covered. Give us a call today at 651-PRO-ROOF for a Free Estimate on storm damaged repair and restoration.