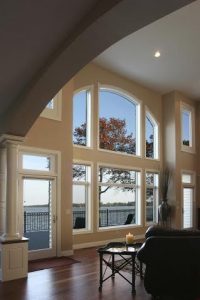 The bitter winter months are fast approaching and now is a great time to do some small things to prepare your home for the cold temperatures and extreme weather of Minnesota. Your windows may not be an area of your home you give much thought to when it comes to the winter weather, but in truth, maybe they should be. Your windows can allow cold, winter air into your home during the frigid winter months, causing your heating system to have to work harder, driving up the cost of your monthly electric bills. Refuge Roofing & Siding can help you choose replacement windows for your home that will give you the look you want, increase the overall energy efficiency of your home, and not cost you a fortune.
Benefits Of Replacement Windows
New replacement windows offer many benefits for your home. They can make a dramatic difference to the overall look of the exterior of your home, both from the inside and the outside. Replacement windows can also reduce the noise the comes into your home and are low maintenance, easy to open and close and easy to clean. Old, drafty windows can not only let cold air in, but they let the warm air from your home out as well. Refuge Roofing & Siding offers a wide variety of windows to meet your specific needs and your budget. Some popular window options include:
● Single Hung
● Double Hung
● Casement
● Bay
● Bow
● Awning
● Slider
● Picture
● Grid
Replacement Window Contractor in Anoka, MN
The team at Refuge Roofing & Siding will spend time going over all potential window replacement options with you. We can provide a free, no obligation estimate and timeline for the job and make sure that is complete before winter sets in. We bring extensive experience and knowledge and we understand that installing replacement windows is an investment for you. You should make sure to get the highest quality windows possible for the money and that is where we can help. Our team can make window recommendations that will add function, beauty, safety and improved energy efficiency without exceeding your budget. New windows will prevent drafts this winter and ultimately save you money over time.
Refuge Roofing & Siding, LLC is a fully licensed and insured local general contractor based in Anoka, MN that specializes in replacement windows. Our team is honest, ethical and committed to your satisfaction in our work. If you would like more information about replacement windows for your home, call Refuge Roofing & Siding today at 651-PRO-ROOF.