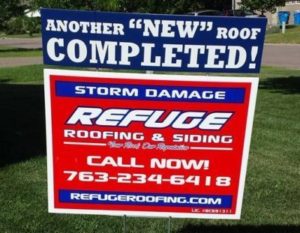 When you're living in Minnesota, seasonal storms are all too common, and storm-damaged property is just a hazard of living in this beautiful state. But that doesn't mean you have to be unprepared when a storm passes through or feel on edge knowing your property may be damaged in a storm. Having an insurance-approved exterior contractor by your side can make difficult times far less challenging, and at Refuge Roofing and Siding, we want to make sure you have as little stress in your life as possible – starting with us. As insurance-approved contractors in Blaine, Coon Rapids, Lino Lakes and Forest Lake, Minnesota, we install, repair and replace several exterior features of homes and businesses, including roofing, gutters, siding and windows. So if anything happens to your property, whether it be storm damage or some other cause, you can rest easy knowing that we'll be there to make sure your home is safe and fully repaired in no time.
GAF Certified Roofing Contractors
What does it mean to be a GAF certified roofing company? Essentially, it means that we provide the highest quality roofing materials and installation services in the country. Only three percent of all roofing contractors can boast this distinction, and we're among them! We install and repair several roofing system types, including:
Architectural Style Asphalt Shingles
3-Tab Style Asphalt Shingles
Cedar Shake Roofing
Steel Roofing
Siding Contractor
As Refuge Roofing and Siding, we couldn't very well wear our name proudly if we weren't confident in our ability to provide you excellent siding installation and repair services. We work with vinyl siding, LP Smartside, steel siding, cedar siding, vinyl and polymer shake siding, and aluminum soffit and fascia.
Aluminum Gutter Installation and Repairs
Our insurance-approved exterior contractor services also include gutter installation and repair, and we install both 5-inch residential aluminum gutters and 6-inch commercial aluminum gutters. We can also install gutter covers to make sure your gutters stay clean, helping them last longer.
Anderson and Mastic Window Contractor
Having top-of-the-line, well-insulated windows is a crucial part of saving energy and money in your home or business. With Anderson and Mastic windows to choose from and an endless list of window styles, you can have any windows you want.
Insurance-Approved Storm Damage Repair Company
If you're in need of an insurance-approved exterior contractor in Blaine, Coon Rapids, Lino Lakes and Forest Lake, MN for storm damage repairs, or even if you have other reasons to make changes to your home that are covered by your insurance, give us a call. We have years of experience working with insurance companies to help our clients get the rates they deserve, and you can be sure that when you work with us, the hardest decisions you'll make will be choosing your exterior finishes. Call today at (651) PRO-ROOF to get a free estimate for exterior contract work for your home or business, and let us work with you to make your insurance claims less stressful!