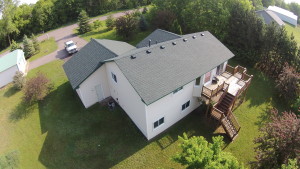 Here Ye Here Ye!  Calling all home owners and business owners!
Now is the time to consider re-roofing your home or business by choosing Refuge Roofing & Siding as your preferred Oak Grove roof replacement contractor! We are sure you are noticing now with the shift of significant colder temperatures that your home or business is not as warm and as comfortable as you would like it to be. Winterizing your home by replacing your roofing system is key! If you are witnessing those ice dams which are created by the fluctuation in temperatures. It gets very cold then warms up then gets cold again and warms up, it certainly feels like bi-polar weather right now which creates a backup of ice on the ridge of your roofing system then, of course, creates icicles. What this is letting you know is that you are experiencing heat loss from an inefficient roofing system. Combining this with torn shingles from significant winds, hail, rain, sleet and snow storm conditions, is certainly the gateway to infiltrate the structure of your roof. We encourage you to address these issues sooner than later to prevent further destruction to your roof then needing professional replacement roofing services.
And with the significant shifts in weather, not addressing your roofing needs could potentially create more damage to you home such as water leaking in and damaging your ceilings and walls in the interior of your home. That will ensure additional financial stress on your pocket book not to mention the mess and inconvenience of repairing, repainting, re-texturing your ceilings. You certainly do not want mold to grow in your attic either which would be very harmful to your health. Give us a call to speak with a professional Oak Grove roof replacement contractor!
Professional Oak Grove MN Roof Replacement Contractor
We at Refuge Roofing pride ourselves as licensed, insured and GAF certified local contractors who specialize in roof replacement.  We are locally owned and Operated and addressing roofing issues in Oak Grove MN.
We offer a variety of roofing replacement systems. Such as asphalt shingles, 3 tab or architectural style, steel roofs,  and Cedar shake. Our professional staff of roofing experts is here to support you in making the best choice suitable for your home.
As a top notch roof repair company, we work with all major insurance companies to take the hassle off of your shoulders during this busy time of year!
So please contact us today to support you in your roofing needs and let us take care of your home and business roofing systems!
Happy Holidays from our families to yours!