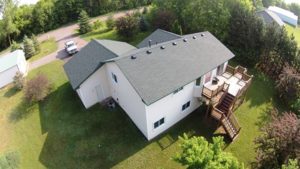 Are you one of those types that enjoys a nice storm? Some people love to fall asleep to heavy rain and loud thunder. Storms in Ramsey, MN are tolerable for most, until their property gets damaged. Mother Nature is a powerful thing, and its unpredictability makes it very difficult to plan for storm damage. So, if an upcoming storm in the Ramsy, MN area causes storm damage on your property, do you have a plan of action? Rather than tackling this damage on your own and becoming overwhelmed, leave the repairs up to our storm damage professionals at Refuge Roofing & Siding.
The Calm After a Storm
No one wants to deal with storm damage. At Refuge Roofing & Siding, we understand that. To help alleviate the stress after finding out that your property has been hit with storm damage, our storm damage experts will take charge on your behalf. With just a quick phone call to notify us of the damage, we'll send out one of our experts to your Ramsey, MN property for a thorough inspection. We inspect every aspect of your home to ensure that all damage is identified and documented. The next stressful step with storm damage is dealing with the insurance company. Well, lucky for you, Refuge Roofing & Siding has a strong relationship with the insurance companies around the area. We'll speak with your insurance adjuster on your behalf to make sure that nothing is missed during your inspection. By choosing our team, you are never responsible for any amount of money above your insurance deductible, that is, unless you request us to perform other property upgrades that aren't tied to the storm damage. Rather than stress, our crew focuses on providing the calm after a storm for our customers!
Diverse Storm Damage Repairs
At Refuge Roofing & Siding, we don't limit our services to just your roof. Instead, we have more than 50 years of combined repair experience in a wide variety of repairs, including:
● Siding Repairs
● Window Repairs
● Gutter Repairs
● Roofing Repairs
● Attic Insulation
Ramsey Storm Repair Contractor
Let us be your one stop shop when it comes to storm damage repairs. If a recent storm has caused damage to your Ramsy, MN property, there's no need to feel overwhelmed. Just give our staff at Refuge Roofing & Siding a call and let us handle the storm damage repair process from start to finish. Let us be your insurance advocate! Give us a call today at (651) PRO-ROOF to learn more.