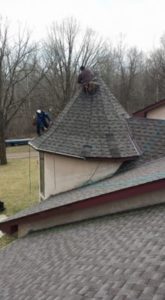 Most homeowners take the roof of their home for granted. Your roof is the first line of defense against mother nature, so when it needs to be repaired or replaced, acting in a timely manner is critical. Additionally, choosing the right roofing contractor for the job is extremely important. Coon Rapids, Blaine, Lino Lakes, Brooklyn Park & Forest Lake, MN have plenty of roofing contractors to choose from, but none that can compare to Refuge Roofing & Siding. We are a licensed and insured contractor that specializes in roofing repairs and replacement services.
The Refuge Team
Your roof is our reputation, which is why we apply so much attention on each roofing project that we take on. Whether it's a residential or commercial roof, we have you covered. We are a GAF Certified Installer, which has only been accomplished by 3% of roofing contractors across the country, and we also have very strong relationships with the best roofing suppliers in the industry. This allows us to offer such competitive prices to our customers. Attention to detail, high quality installation, top of the line materials and a passion for our customers is what you get by teaming up with Refuge Roofing & Siding.
Free Roofing Estimate
The initial step in the roofing repair or replacement process is to setup a free estimate with our staff. Typically, one of our roofing experts will come to your property and perform a thorough analysis on the state of your roof. This typically takes 30 minutes and we are sure to make you aware of any damage that we find. From there, we'll sit down with you to determine what work you'd like us to complete. This is a completely hassle free estimate and we make sure that we do not apply extra pressure to your decision. We are happy to rank your damage from critical to the less necessary repairs as well. If you decide to partner with Refuge Roofing & Siding, we'll set up a date to begin your project and will stay on time with the completion so that the interruption around your home or business is minimal. In fact, we can even work around your schedule if needed!
If your roof in Coon Rapids, Blaine, Lino Lakes, Brooklyn Park or Forest Lake, MN needs some repairs or even a full replacement, choosing the right roofing contractor for the project should not be taken lightly. Lucky for you, Refuge Roofing & Siding is the premier roofing contractor in the area and we are eager to help strengthen the roof of your home or commercial property. To request a free quote today, give us a call at (763) 234-6418.